Did you know that one method of animal testing includes making them eat makeup and shampoo? And did you know that most companies don't test on animals themselves? However, they may obtain their ingredients from suppliers that test do on animals. Or, they use a third party company that tests on animals or sell their products in a country that requires animal testing (ex. Mainland China). Further, they can also use a third party parent company that does these things. So, how the heck do you know if the products you are buying are actually cruelty-free? If you want to be 100% certain, then look for companies that are leaping bunny certified.
What Is The Leaping Bunny Certification?
The Leaping Bunny certification was established in the 1990s by Cruelty-Free International coalition of animal protection organizations. It is the only internationally recognized cruelty-free certification, and is the "the global gold standard for cosmetics, personal care products, and household products."
Having the Leaping Bunny logo on a product means that the product is certified cruelty free. Any company that produces Leaping Bunny certified cosmetics, personal, and/or cleaning products must comply with the criteria set by the Humane Cosmetic and Humane Household Standards.
Myths and Facts
There are many misconceptions about cruelty-free products or what it means to be cruelty-free. Let's clear up a few things here.
MYTH: If a product says it is "Cruelty-Free" or has a bunny on it, that means testing did not happen on the animal.
FACT: Even though the finished product may display an image of a bunny or state that it is "Cruelty-Free" and/or "has not been tested on animals" this does not mean that the ingredients in the finished product are cruelty-free or have not been tested on animals. A company may also state that they do not test on animals, but that does not mean that the company does not contract out to other companies. Unfortunately, contracted companies can still test on animals.
The only way to be certain that a finished product, and all of the ingredients in it, have not been tested on animals is to look for the Leaping Bunny logo.
MYTH: US law requires that cosmetic and personal care products test on animals before being sold.
FACT: Neither the US Food and Drug Administration (FDA) or the US Consumer Product Safety Commission requires animal testing.
MYTH: A product may not be safe for humans if it has not been tested on animals first.
FACT: Science has provided many reliable alternatives to animal testing. Some of these alternatives include cell and tissue cultures, as well as computer and mathematical modules. Many of these alternatives can be combined.
MYTH: It can be challenging to find truly cruelty-free products.
FACT: The Leaping Bunny program is continuously adding more companies to its list. Currently, over 1,300 companies are Leaping Bunny certified. The Leaping Bunny program also offers both a website and an app to make cruelty-free shopping easier.
Leaping Bunny Approved Brands
Currently, over 1,300 companies are Leaping Bunny certified, and you can find the full list here. These are a few of my favorites:
Arcona
Arcona was founded in Los Angeles in 1989 and uses the power of antioxidants, plants, sea vegetables, essentials oils, vitamins, and minerals. I first heard about Arcona at Woodhouse day spa in San Antonio. I loved it so much; I'd battle San Antonio traffic and drive over there to get more.
Since then, Arcona sells at major online retailers and even your local Nordstroms. My favorites are the Cranberry Gommage and the raspberry clarifying pads. I also just got the clarity aftershave pads for Russell as a father's day gift.
Method
Method creates "beautiful cleaning products that are as kind to the planet as they are tough on dirt." I've been using Method for years. Truth be told, I was sold on the cool bottles and fun colors and smells. My current favorites are the wood for good polish and the eucalyptus mint bathroom cleaner.
Badger
Badger makes "mineral sunscreens, coral reef safe sunscreens, organic lip balms, all-natural bug repellents, and other powerfully pure body care products." We fell in love with Badger after Will was born. Their diaper cream is the best I've ever used. So good, I'd cut the tubes open to get every last bit. Something about that calendula oil is so soothing to an angry rash and clears it up right away.
One Two Cosmetics
One Two Cosmetics pioneered the magnetic false lash. If you wear traditional false lashes and haven't tried their magnetic counterpart, I highly suggest you do. Magnetic lashes are easy to apply and look great. They are also easy to take off and don't damage your natural lashes. If you'd like to give them a try (do it), here's a link for 10% off sitewide.
Monat
Monat is a naturally based, anti-aging hair care line made in the USA. The products are sulfate and paraben free, do not contain silicons or gluten, and the company does not test on animals. I've been using these products religiously for the past two years, and my hair has never been healthier. Not to mention, Monat provides and fun and lucrative business opportunity. My favorite products are the Rejuveniqe Oil and Rejuveabeads Split End Mender.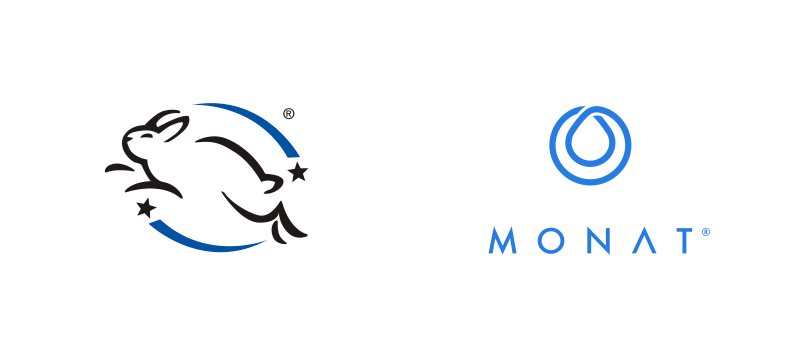 Leap on Over To Your New Favorite Products
I'm pretty much addicted to making sure a product I buy and use is Leaping Bunny Certified now; it's just a really easy and effective way for me to help protect the animals. Plus, the products I mentioned are great so you really can't go wrong.
If you're interested in learning about Monat (for business or the products) reach out to me! I love to talk about it all and you really can't get mad at healthier hair and more income.