For quite some time, I've shared the hair products I use by posting on social media. If you know me, you probably know that I'm not one to drink the Koolaid and am a huge skeptic of social selling opportunities that sound too good to be true. But, I'm also a ride or die friend and will support you and your endeavors to the end even if it means, in the end, I become a Monat Market Partner. Let's recap.
Why I Chose Monat
About 2 years ago, a trusted friend reached out to me and asked: "are you interested in trying a new shampoo?" I instantly smelled that she was selling something, but was intrigued. I wasn't emotionally attached to my current products, and my hair had always been pretty lifeless, even more so after experiencing postpartum hair loss with both boys. I'd also never heard of a social selling company that was strictly hair products and thought that was genius.
So, I bought the shampoo without thinking twice about it and even signed up to be a preferred customer. I love a good deal and wanted the freebie product they were offering.
Unbox Day
The box of shampoo arrived, and I hopped in the shower. My first wash was with the Revive Shampoo. I used a quarter size amount, concentrating at my roots and rinsing out after 2 minutes. No lather what so ever. Next, I did a second wash, again with the revive shampoo. For the second wash, I used about a nickel size amount and got lots of suds. Just like the first wash, I let it sit for 2 minutes and then rinsed well.
Do You Really Need To Wash Your Hair Twice?
Yes, you have to shampoo twice. This is actually recommended for all shampoos, which was a new concept for me.
Think of it like this:
You vacuum your carpets before shampooing them right? Same idea. First wash gets rid of the debris so the second wash can get everything squeaky clean.
I then applied a fingerful of the Replenish Masque, a deep conditioning protein treatment, to my ends and put a nickel size amount of the Revitalize Conditioner over the top that. I let it sit for 2 minutes, rinsed thoroughly with cool water, and enjoyed the fantastic smell.
Results After 1st Wash Using Monat
As I combed through my hair, it felt cleaner than it had in a long time and smelled amazing. I applied a pea size amount of the blow out cream to my towel dried hair. I then dried my hair with my hairdryer and round brush as usual. My hair felt soft and wasn't weighed down by any of the products I had used. One of the most encouraging things, however, was when I went back to work that week and coworkers were commenting on my hair.
My Intrigue Turned Into "Fear of Missing Out"
So it turns out that Monat products are naturally based and free of harmful chemicals. Plus, they work which isn't always the case when the products are naturally based.
At this point, my intrigue was starting to turn full on FOMO. I had seen friends venture into social selling before with some claiming to make a good living.
But, to be frank, I thought it was a load of crap. I'm a pharmacist, and the primary breadwinner in our family and I found it hard to believe you can earn a real income this way, let alone get a free trip or a car.
3 Things To Look For in a Social Selling Opportunity
I started doing my research (nerd alert) and found that there are 3 things you want to look for in these social selling opportunities:
1. Quality Products That are Necessary and Consumable
This means that no matter what- the consumer is already paying for the products. These products can be toilet paper, home cleaning supplies, or in this case- shampoo. All that's required of the consumer is just to make a product or "store" switch.
2. A Competitive Compensation Plan
Monat pays back 50% of profits to the field. That is unheard of in this industry and worth it alone right there. Additionally, we can earn free trips and there is an attainable car program. The pay has been steady and more than I anticipated it ever could be, so I'm pretty happy about that.
3. Timing
This may just be the most important thing to consider when looking at social selling opportunities. Monat is only four years old and is just getting started. Even as the #1 premium hairline in North America, hardly anyone has heard of this line. We're just now expanding to other countries, so the chance to have an even bigger client list grows.
Maybe Selling Monat Isn't so Bad of a Deal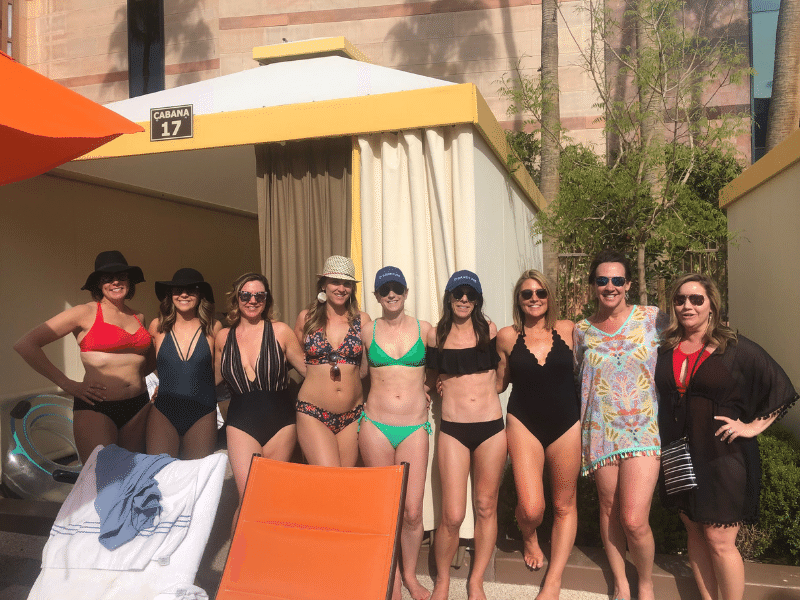 As I used the products more and completed my research on social selling, everything started to make a lot of sense. All I had to do was buy a different type of shampoo that I could get a full refund on in 30 days if I didn't like it (they even let you send the bottles back empty). Further icing on the cake is that Monat doesn't have purchasing requirements, so I'm free to use up my stock of 'poo and order when needed.
So, I bought the box of shampoo and started sharing what was going on with my hair to anyone who would listen.
Social Selling Works
Once I began sharing my experience with Monat on my FB, all the good things that I thought wouldn't happen, did.
My friends wanted the products, approaching ME about them.
People saw the opportunity and actually went into business with me.
Within 6 months, I was on my way to replacing my pharmacist salary and had earned a free cruise to Bermuda.
A few months later, I found myself one promotion away from a shiny white Cadillac Escalade and profit sharing with the company.
I added travels to Washington DC, the Bahamas, and Las Vegas.
One of my teammates was able to fund an extended maternity leave with her fresh babe, and another went part-time at her job.
All these things were happening, all because I was washing my hair and telling people about it.
It's Fun
Here's the thing, I was having fun and doing things I had never done and meeting people who were smart and challenged me. My husband, who was initially skeptical but supportive, was encouraging me to keep going because he had caught the vision too.
Oh yeah, and my hair was way better. Like almost to mermaid hair.
I also found that I was more assertive at my regular job, using the skills I had learned with Monat. The people they connect you with and the training support they have is. A little less angry there too, because I knew I had more options now, that I had an exit strategy from this career that tries my patience and forces me to work nights and holidays.
Frequently Asked Questions
So, that's my story. I'm going to have to keep writing it because I keep dreaming bigger. At this point, you might have some questions. Here are the most frequently asked questions I receive:
Are the products expensive?
The products are concentrated and last a long time. If you're purchasing drug store shampoo, it will cost a bit more. If you're buying salon quality, you will likely save money by switching to Monat. You can also earn unlimited product credit by referring friends.
How long will it take to see results?
It depends. Some people experience a "one wash wow," and some take a bit longer to see a difference. I recommend taking a before picture and committing to 30 days, 90 days ideally of consistent use. If you're using products that contain wax or silicon, your hair is being suffocated! It can take some time to get all that plastic off your tresses.
What products should I use?
No head of hair is the same. You will need to use the right products for your hair type, or you won't be happy. Trust me on this. Take my hair quiz, and I'll reach out to you with product recommendations.
How do I order?
Orders are placed directly through my website. But, see above. You never want to order without making sure you know what product is best for your hair type. Plus, if you go to the site and order blindly, you may miss out on our VIP customer program and pay more than you should.
How much does it cost to be a market partner?
$199-$649, one time only. You'll get 40% off a box of the best products on the planet and can use it as a write off on your taxes.
Do market partners have sales quotas or purchase requirements?
Nope. You are not required to sell or make any purchases if you don't want to. You can choose the free version for your website. Once a year, renew your commitment for $50.
I have no sales experience, can I be a market partner?
Yup. I've never sold anything except girl scout cookies. The best way to be successful with Monat is to share fearlessly. The sales will come. The most important thing is that you are coachable and willing to learn. If you have big goals, you'll have to push past fear and out of your comfort zone.
If you're curious, need more info or would like a product recommendation, feel free to reach out to me. I'd love to help you get the best hair of your life and even create supplemental income for your family.