A few weeks ago, my husband and I spent a fantastic week in Jackson, Wyoming, aka Jackson Hole. This trip was our first real vacation since I've switched to a plant-based diet for energy. I was slightly nervous about relying on Jackson Hole restaurants for a whole week of plant-based/vegetarian food while traveling. But, Jackson had so many great plant-based, vegetarian, and even vegan options available. I hope you keep reading for my real life guide on how I stuck to a healthy, plant-based diet on our six-day trip to Jackson, Wyoming.  
Plan Ahead
Before your trip, I recommend making a shortlist of restaurants that offer plant-based options. You can search for blog posts like this one, or I had good luck searching the restaurant guide on Trip Advisor and using the "vegetarian-friendly" option. We also stopped at the Albertson's grocery store in town for some staples before checking into our hotel. Pearl Street Market is another option if you need something within walking distance of Town Square.  
Depending on the time of year you visit, you may want to make reservations for your stay on the day of arrival. We got lucky to get a table for two a couple of times and then wised up and made dinner reservations for the rest of our trip.  
I also brought my total greens powder. It's vacation; I'm not going to be perfect! I like this product because it tastes terrific even when mixed with water and provides 37 different fruits and veggies. The canister is small and easy to pack. It's a new product, so hopefully, there will be individual packets for sale soon. I also make sure to stay consistent with my probiotic. Food is an essential part of a plant-based diet. But, I do use supplements to help me along the way.  
Sidewinders Jackson Wy
We landed in the early afternoon on a Wednesday and stopped at Sidewinders Americal Grill and Tavern after getting our rental car. I think my mom had seen it on the Food Network, and it was an easy stop on the way into town. Sidewinders Jackson Wy has vegetarian-friendly appetizers and an eclectic salad menu. We shared the pretzel, and then I got a power bowl. Here is their menu so you can check it out.   
Figs Jackson Wy
Figs Jackson Wy is in the lobby at Hotel Jackson, where we stayed. The restaurant features authentic Lebanese-Mediterranean cuisine, so lots of plant-based and vegetarian-friendly options. The Washington Post once said that Figs Restaurant makes the best hummus in the state of Wyoming. I believe it! We ate breakfast daily at Figs and then would grab a late afternoon snack there before dinner. My favorite plant-based breakfast at Figs is the avocado toast. I ate it every morning and now make it at home. I'll put the recipe below for you. If avocado toast isn't your thing, click here to check out the complete menu.
Liberty Burger Jackson Wy
After getting checked in to the hotel, we walked around Town Square and stopped at Liberty Burger Jackson Wy. We didn't have a reservation but were seated quickly. Liberty Burger is a Texas-based chain that prides itself on using quality ingredients. Russell got "the liberty burger" with bison, and I got a "the Woodstock," a veggie burger filled with grains, seeds, and chickpeas. It was hands down the best veggie burger I've ever had. I wish I could eat one right now while I write this. Here is the menu. They also had awesome boozy milkshakes.  
Gather Jackson Wy
Gather was within walking distance from our Hotel Jackson and just off Town Square. Gather Jackson Wy features casual dining but with a cool vibe. I loved the private dining room, and bar and the craft cocktails were incredible. I had the sea scallops and a side of crispy brussels but also eyed the wild mushroom toast with melted brie. Click here for the full menu at Gather.  
The Kitchen Jackson Wy 
The Kitchen Jackson Wy was my husband's favorite restaurant and located across the street from Hotel Jackson. The Kitchen Jackson Wy is ultra-modern, and the cuisine is Asian inspired. Like a lot of the Jackson Hole restaurants, the drinks are incredible. The staff was so friendly and very knowledgeable. I had the spring Asian salad and the luxury shrimp. Click here for their delicious menu.  
The Restaurant at White Buffalo Club
This Jackson Hole Restaurant is downstairs at the White Buffalo Club Hotel. The White Buffalo Club was another hotel we considered, but the customer service reviews weren't great, and we were thrilled with the kind folks at Hotel Jackson. That said, the Restaurant at White Buffalo Club was cozy and filled with corner booths, a speakeasy vibe. The staff was great, and so were the food and drinks. I had the truffle linguine and added wild mushrooms. Here is the full menu so you can check it out. Don't skip dessert! 
Jackson Drug Original Soda Fountain
We ate dinner here on a whim, but I'd say it's more of a lunch or dessert spot amongst all the other Jackson Hole restaurants. As the name implies, an old soda fountain and pharmacy now turned restaurant serving ice cream, malts, burgers, and sandwiches. I built my own grilled cheese with blank on sourdough, but the "Veg Head" Falafel burger with tzatziki sauce sounded terrific as well. The "munchies" menu looks excellent if you need a quick snack. Here is the full menu at Jackson Drug.  
Dornan's Chuckwagon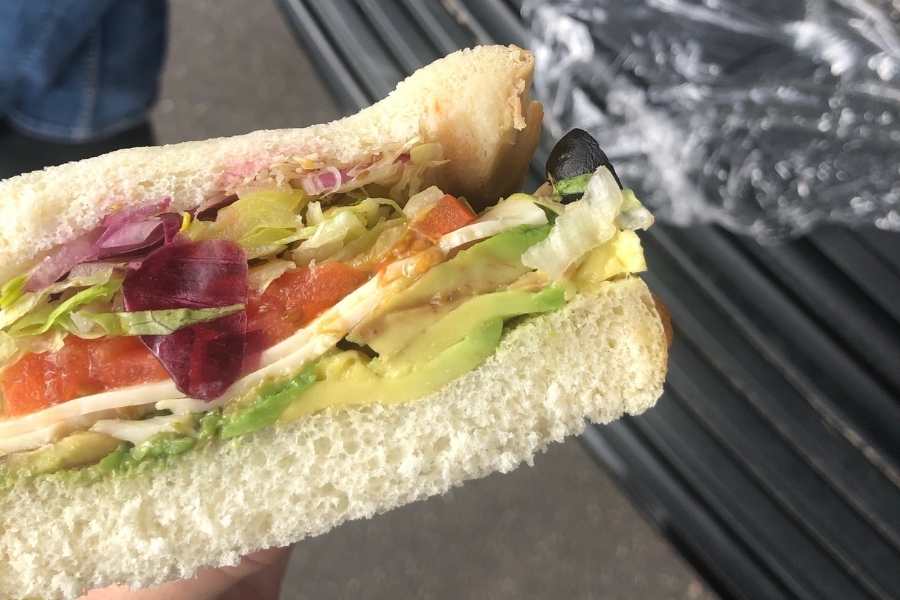 Dornan's Chuckwagon isn't precisely a Jackson Hole restaurant, but something you need to know about visiting Grand Teton National Park. There aren't many food options within the parks, and you have to take what you can get. After scarfing down a $10 veggie pizza flatbread at Ole Faithful the day before, I figured packing lunch to Grand Teton would be wise.  
Dornan's has the Pizza and Pasta Co. open during the busy season, but we grabbed a made to order sandwich from inside the general store. They have a full deli and grocery store for whatever you need. I got a sizeable and affordable veggie sandwich that fueled me before and after our hike around Jenny Lake. We recommend grabbing lunch before you start your Grand Teton Adventure. Here is the website for hours and info.  
Final Thoughts on Jackson Hole Restaurants for Vegetarians
I hope you found this information on Jackson Hole restaurants helpful in sticking to your plant-based diet or finding vegetarian or vegan-friendly options. While I eat a little cheese and seafood, I think any of the restaurants I mentioned have options if you don't. Of course, this is not an all-inclusive list but a review of the vegetarian-friendly restaurants we tried. I do hope you visit Jackson, Wyoming, at some point.  Reach out or comment below if you have questions or need help planning your trip.